C/O STOCKHOLM ROOMS AND BED & BREAKFAST IN STOCKHOLM AND ITS SURROUNDINGS.
To make a booking, check availability or get more information, contact us on e-mail info@costockholm.com. We will reply asap with a suggestion asap to suit your plans.
#R1: SÖDERMALM - HISTORIC HEIGHTS
Two rooms / bed & breakfast for 1 + 2 persons in historical eastern Södermalm.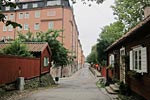 #R2: ÖSTERMALM/GÄRDET - ROOM WITH A VIEW
Two rooms with panorama view offered for 1-4 persons in a bright, artistic shared penthouse.
#R4: GLOBE ARENA - SOUTH OF SÖDERMALM
Bed & breakfast just 1,5 km south of Södermalm - suitable for two persons, possibly with a child.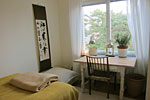 ______________________________________________________________



Looking for something else? Click on the pictures below to see our other objects:
Also our visit our Hotels page for the latest offers
or:
send us an e-mail anyway. We might have new objects not yet posted on the website.


Back to Apartments / B&B page